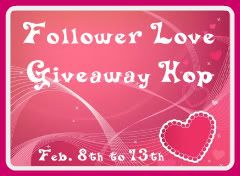 I'm giving away a $15 amazon e-giftcard to a lucky follower.
+2 for old followers
+1 for new followers
+1 twitter follower
+5 post my button and leave a link
Just leave a comment with your points and answer this question: What is the best book, that you have read so far this year? Please leave an e-mail at which you can be reached. US only.
Thanks to I Am A Reader, Not A Writer for hosting the hop. Below are the links to the others in the hop, so hop away. Hop starts February 8th and ends February 13th at midnight cst. I'm posting this early, but please don't enter until the 8th. Hopefully, I will pick and contact the winner within 48 hrs. The winner will have 72 hrs. in which to get back with me. Thanks for participating!